September 27, 2022, Zhejiang Library and Bibliotheca Alexandrina signed a memorandum of understanding by Yang Yi, Consul General of China in Alexandria and Ahemd Zayed, Director of Bibliotheca Alexandrina. This memorandum aimed to enhance the cooperation between the two libraries in document exchanges, academic communication and exchange visits so as to get a further step in cultural relationship between two countries.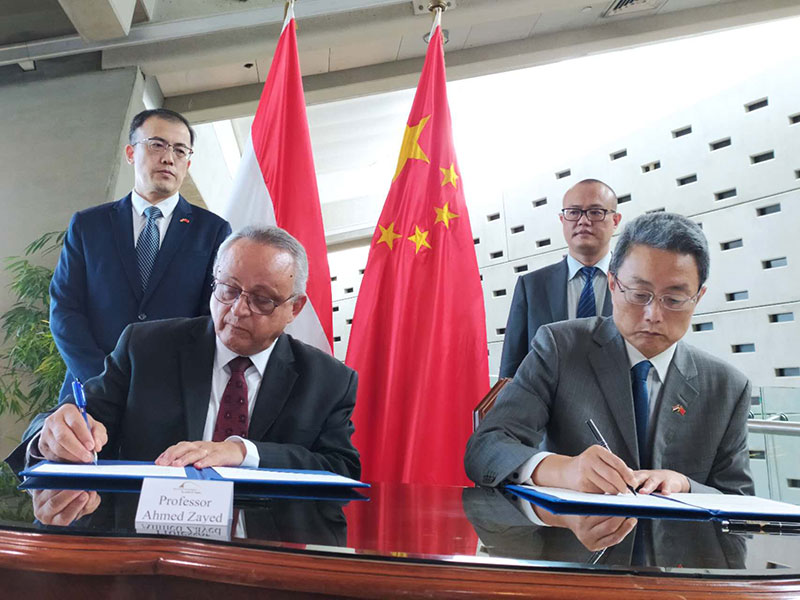 Zhang Tao (L, Rear), Chargé d'affaires a.i. of the Chinese Embassy in Egypt, Ahmed Zayed (L, Front), Director of Bibliotheca Alexandrina in Egypt, Yang Yi (R, Front), Consul General of the People's Republic of China in Alexandria, Yang Ronghao (R, Rear),Cultural Counsellor of the Chinese Embassy in Egypt and Director of the Chinese Cultural Center in Cairo, attended the signing ceremony. [Photo by Huang Peizhao/People's Daily Online]
Affected by the pandemic, Zhejiang Library had entrusted Consul General Yang Yi to attend this event and sign the memorandum of understanding with Bibliotheca Alexandrina on behalf of Zhejiang Library on the basis of adequate communication in the early stage. The memorandum includes aspects such as "exchange of publications and other information resources", "cooperation in organizing conferences, seminars and exhibitions", "promotion of activities and events of each party", "expert exchanges in all branches of archives and library science", "development of scientific co-operation", which would be implemented in the further cooperation.
Zhang Tao, chargé d'affaires a.i. of the Chinese Embassy in Egypt, said that cultural cooperation with Bibliotheca Alexandrina is an important part in the development of Sino-Egyptian relationship. Director Zayed said that Egypt and China had established very strong relationship in the political, economic and cultural aspects, and the memorandum of understanding signed by Bibliotheca Alexandrina and Zhejiang Library would help deepen the cultural cooperation between Egypt and China.

Bibliotheca Alexandrina
Situated in Alexandria, Egypt, Bibliotheca Alexandrina is one of the oldest libraries in the world. Built in the 3rd century BC by Ptolemaic I of Egypt, the ancient Library of Alexandria had the richest collection of manuscripts produced during the 400-300 BC period and once as famous as the Alexandria Lighthouse. She was seen as the "sun" of Mediterranean civilization and the supreme representative of the achievements, but sadly was destroyed by fire later.
In 2002, Egypt rebuilt the new Library of Alexandria, now the new Bibliotheca Alexandrina, near the original site. As one of the major libraries and cultural centers along the Mediterranean coast, the new library is seen both as a memorial to the ancient Library of Alexandria and as an attempt to revitalize Egyptian academic culture.
The main building of the new Library has a semicircular dome, a pyramid-shaped conference hall, and skillfully combined geometric forms which outline the long history of the library. No matter from which side of view, its main building looks like a slanting sun, symbolizing the cultural light that illuminates the world. The granite-textured cultural wall is engraved with characters, letters and symbols from the 50 oldest languages all over the world, including Chinese characters, which highlights the civilization and culture represented by the library.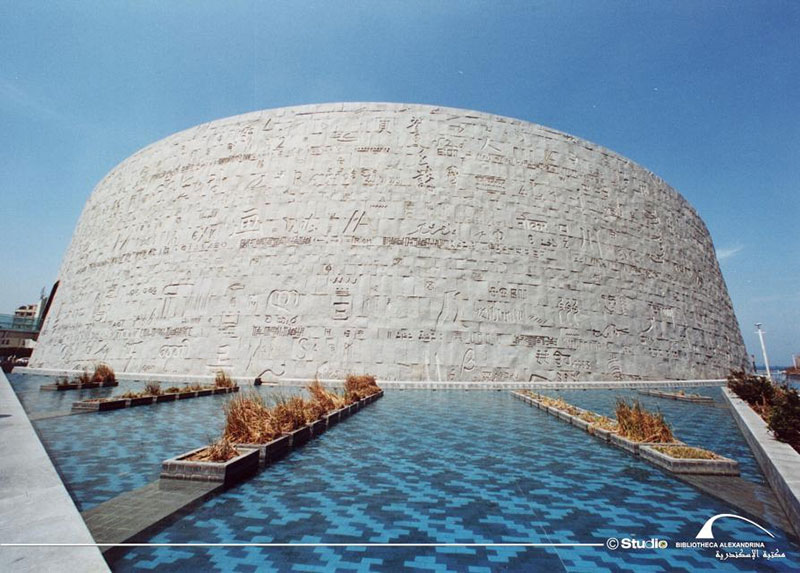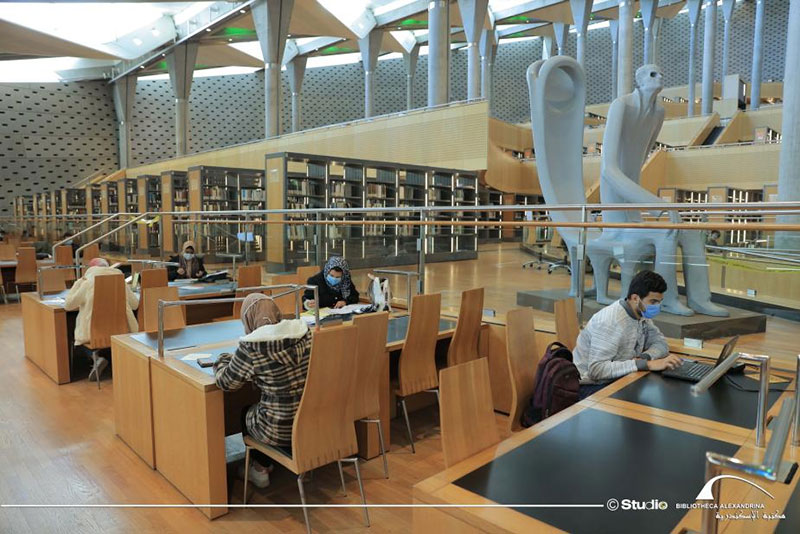 Besides main library and its affiliated libraries, Bibliotheca Alexandrina has six specialized libraries, four museums, twelve academic research centers, four art galleries for temporary exhibition, the ALEXploratorium (an exploratorium for introducing children to science), the Planetarium Science Center (PSC) and the Conference Center (which can accommodate up to thousands of people).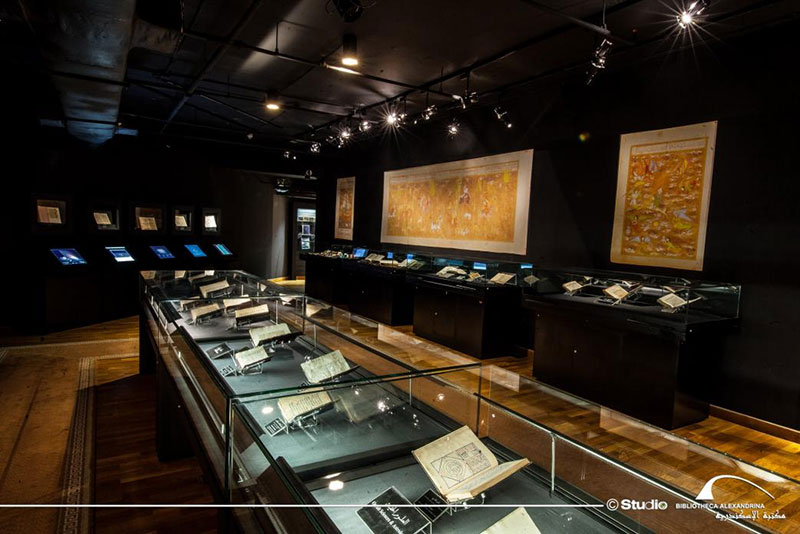 In terms of collections construction, Bibliotheca Alexandrina gives priority to the collection of materials from the ancient Bibliotheca Alexandrina, Alexandria and Egypt, followed by materials from Mediterranean countries, the Arab countries and Africa, and then materials from other parts of the world. The library has a large collection of rare books, classics, manuscripts, calligraphy, paintings and video products, some inlaid with precious stones, some on leather paper and gold characters. The cultural heritage and wisdom of all ethnic groups in the world shine here. In addition to its literature collection, Bibliotheca Alexandrina also has a large collection of ancient coins from all over the world. The library currently has 250,000 volumes of books, 6,700 rare books or extinct books, and more than 200,000 volumes of miniature films and audio-visual materials.
For more information about Bibliotheca Alexandrina, please visit:
https://www.bibalex.org
Zhejiang Library
Zhejiang Library, a national first-class public library, is one of the earliest provincial public libraries in China, and one of the first batch of national key protection units for ancient books preservation and conservation. The history of Zhejiang Library could date back to Hangzhou Pavilion Library, which was first built in 1900 and then developed into Zhejiang Pavilion Library in 1903. In 1909, Zhejiang Pavilion Library was merged with Zhejiang Official Press into Zhejiang Library. Of all its names, "Zhejiang Library" was officially in use in 1953. The present library building on Shuguang Road was built in 1998, and has been serving the public as the main library since then.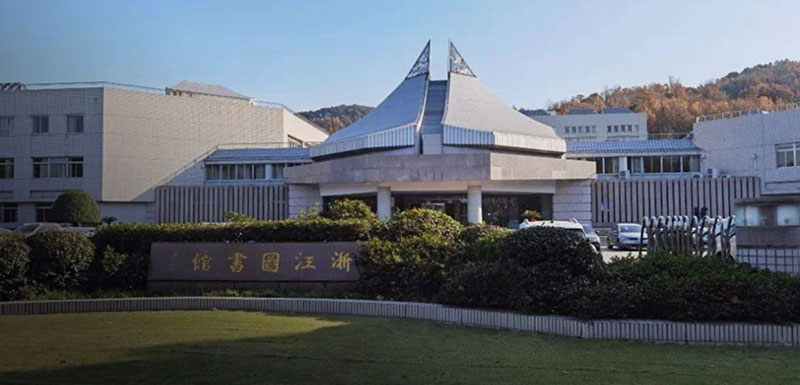 Today, Zhejiang Library has 5 library buildings, including the main library on Shuguang Road, two branch libraries on Gushan Road and Daxue Road in Hangzhou City, Jiaye Library in Huzhou City, and Deqing stack room in Deqing County, covering a total area of 55,100 square meters. Besides, 39 circulation stations have been set up across the province. On February 28, 2019, Zhijiang Library, the new library building of Zhejiang Library broke ground, with a floorage of 85,000 square meters, and is expected to be available by the end of 2022.
As of 2020, the total collection of Zhejiang Library amounts to more than 7,470,000 items, featuring abundant ancient books and local literature, including approximately 830,000 thread-bound ancient books (including 150,000 rare books), 5,510,000 general books, 1,00,000 bound periodicals and newspapers, 150,000 library-collecting engravings, 4,110,000 e-books and 190 electronic databases (especially the 38 self-built databases on genealogy and local chronicles of Zhejiang Province). Zhejiang Library attaches great importance to the introduction of foreign literature, and that's why it maintains partnerships and keeping book-exchange with 12 libraries from different countries and regions, including America, Japan, and Australia.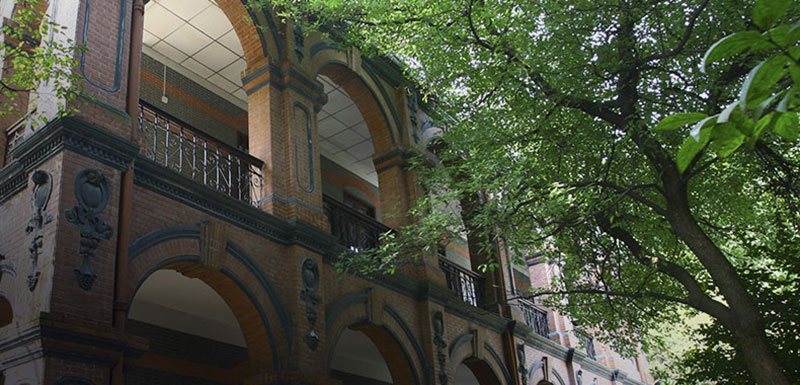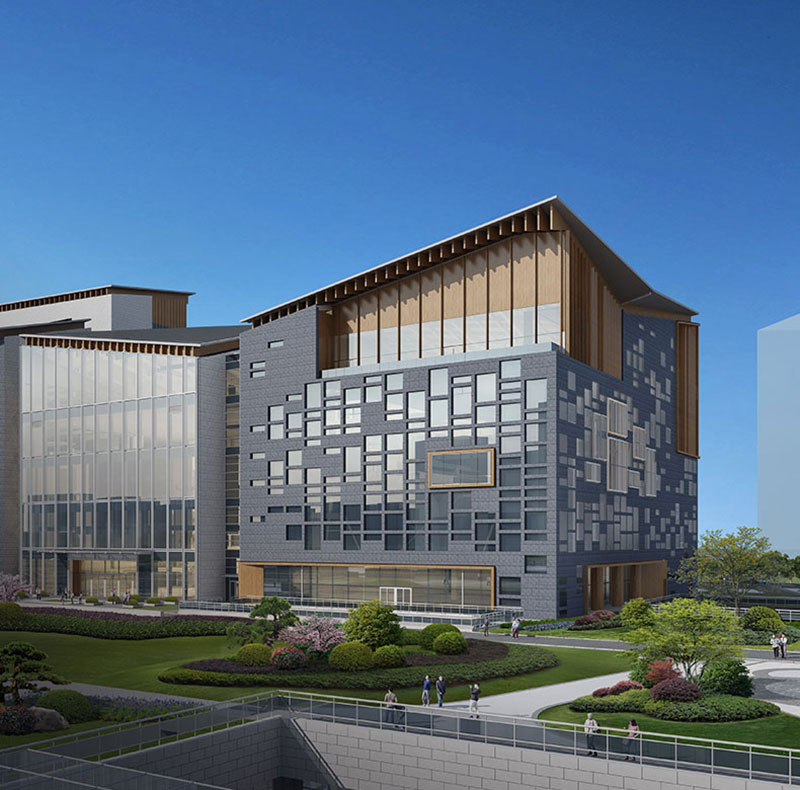 As Zhejiang Sub-Center of National Cultural Information Resources Sharing Project, Zhejiang Information Accessibility Service Center, and National Online Library Cataloging Center, it is always committed to the co-building and sharing of cultural information resources, service improvement for the visual impaired, cross-border book resources building and sharing, and the Chinese rare books protection project. Also, as a member of the National Public Library Lecture Union and Yangtze River Delta Public Library Lecture Union, Zhejiang Library has, with constant emphasis on the co-building and sharing of regional resources, taken the lead in organizing lectures, holding displays, forming technological alliance and implementing the service of library coordinated loan and return in Zhejiang province.
For more information about Zhejiang Library, please visit: