In November 1900, Hangzhou Pavilion Library was founded by Shao Zhang and Hu Huan and was expanded as Zhejiang Pavilion Library later. In 1909, Zhejiang Pavilion Library was merged with Zhejiang Official Press into Zhejiang Library. In 120 years, Zhejiang Library continuously increased its collections, from less than 10,000 volumes to more than 7 million and from collecting paper documents only to focusing on both digital and paper resources. The digital resources owned by Zhejiang Library are now over 186TB.
Other than the heritage from the pavilion library, the collections of Zhejiang Library mainly come from acquisition, submission, donation, exchange, copy and some other ways. More than a century's development and accumulation formed a collection system with complete content, diverse forms and local characteristics in Zhejiang Library who is rich in the collection of ancient books and books with local characteristics as well. There are more than 150,000 rare books among the 820,000 ancient books. In addition to the "Si Ku Quan Shu (Complete Library in the Four Branches of Literature)", Zhejiang Library also contains ancient books which could date back to Northern, Sui and Tang Dynasty. The most representative books of modern literature and local documents are also significant collections in Zhejiang Library. As for the books originally published in foreign countries, Zhejiang Library owns collections written in various languages including English, Japanese, Russian, German, French, etc., which covers full ranges of disciplines. Art images, depository data of the United Nations, materials from Fukui Prefectural Library and Shizuoka Prefectural Central Library and other special collections can also be found in Zhejiang Library to meet special needs. With the development of information technology, Zhejiang Library established a vast amount of digital resources which contains books, periodicals, newspapers, thesis, ancient books, tool books, audios and videos. The need of visually impaired groups is met by the self-made braille books, audio books and other special resources. In recent years, Zhejiang Library continuously revised its policy of development, perfected its collection system, highlighted its key points and promoted its services.
There are totally 11 sections in the exhibition for 120th anniversary, which gives public a full view to the historical accumulations and special collections of Zhejiang Library. Visitors can witness 120-year history of the library through the exhibition.
On November 7, experiential activities were held together with the exhibition. Visitors experienced the charming part of traditional culture by printing a page of book with blocks, making a thread-bound book and copying a page of Si Ku Quan Shu.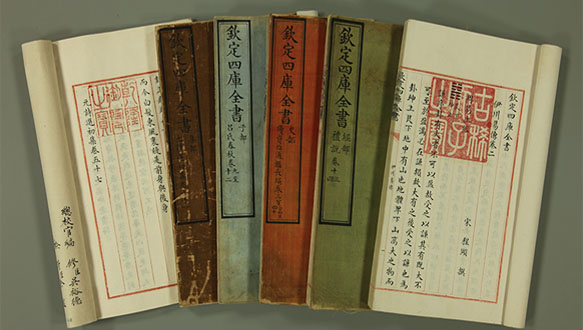 Si Ku Quan Shu Stored in Wenlan Pavilion
In this exhibition, Zhejiang Library selects some representative documents among 150,000 copies as exhibits. For example, Si Ku Quan Shu, a miracle in the book protection history in China, was on the show together with Dunhuang Hangwritten Sutras, block-printed books and some other rare books.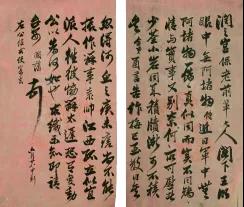 Letters from Zeng Guofan to Hu Linyi
Big Events in Zhejiang Library's 120 Years History
In 1900, with the permission from Magistrate Zhu Qifeng, Shao Zhang and Hu Huan established Hangzhou Pavilion Library.
In 1909, Zhejiang Library was founded.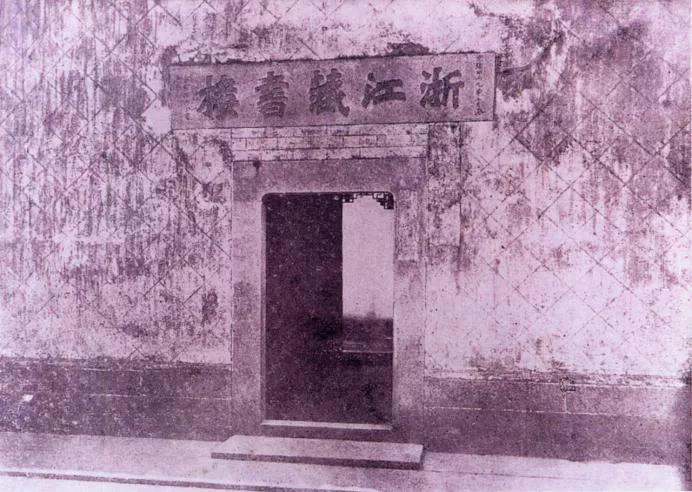 Zhejiang Pavilion Library
In 1911, Si Ku Quan Shu was permitted to be transmitted from Wenlan Pavilion to Zhejiang Library.
In 1913, Gushan Road Library was officially opened as the main library.
In 1914, 10 woodblock-printed books like General Record of Zhejiang, the photocopy of Si Ku Quan Shu and the pictures of Zhejiang Library were exhibited on Panama-Pacific Expo.
In 1915, the first periodical of Zhejiang Library, Annual Report of Zhejiang Library, was published, which set a precedent for the editing and publishing of professional periodicals in Chinese library industry.
In 1932, Daxue Road Library was opened as the main library to collect books in foreign languages.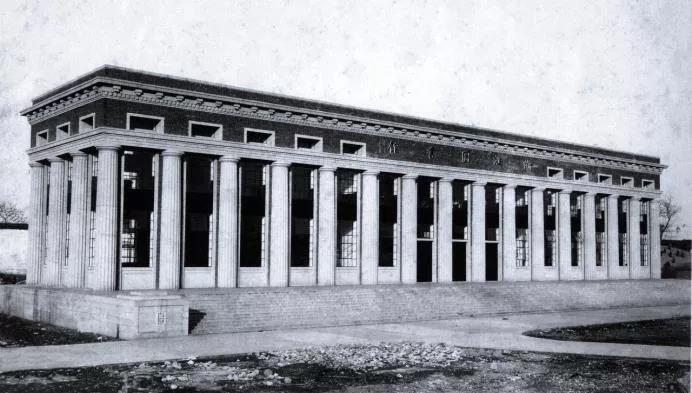 Daxue Road Library in 1932
In 1936, Zhejiang Documentation Exhibition opened. More than 6,000 ancient books and 20,000 cultural relics were exhibited for 18 days and attracted more than 76,000 visitors.
In 1937, Xinmin Branch Library firstly started open-shelf borrowing which changed close-shelf borrowing lasting for a decade.
From August 1937 to the end of 1945, Zhejiang Library left Hangzhou due to the outbreak of Anti-Japanese War and spent more than 8 years outside. From August to December 1937, more than 110,000 rare books were moved out and eventually returned in August 1946.
In January 1961, Library Science Department of Wuhan University set up a college school in the library. By 1965, two terms, 24 students graduated here. This is the first college education in the history of Zhejiang Library.
In 1970, Si Ku Quan Shu was relocated again. Staff in the library loaded Si Ku Quan Shu and other rare books in 493 boxes and moved to war-ready warehouse in the mountain of Longquan in Zhejiang province. These books were returned 6 years later.
In 1977, Zhejiang Library was identified as a main working station of national ancient book catalog and began to catalog rare books in Zhejiang province.
In 1988, Zhejiang Library founded People's Reading Club which established 11 circulation stations on the year of opening and attracted nearly 8000 readers.
In 1994, Zhejiang Library officially joined the International Federation of Library Associations and Institutions (IFLA) as an institutional membership.
In 1998, the main building of Shuguang Road Library was completed.
In 2007, Zhejiang Library introduced free annual library card to readers.
In 2008, Zhejiang Ancient Book Protection Center was officially established.
In 2009, "Zhejiang Digital Library" was implemented, realizing the unified certification of users' information and resources of public libraries in the province, and the integration of traditional collection and digital resources from each library.
In 2011, the "Zhejiang Library Information Accessibility Service Center for the Visual Impaired" was officially opened, with functions including lending, consulting, training, leisure and entertainment.
In 2017, with the development of Internet and the Internet of Things, Zhejiang Library established an online platform called "U book" which realized the first case "Library pays for the book you choose" all over the country.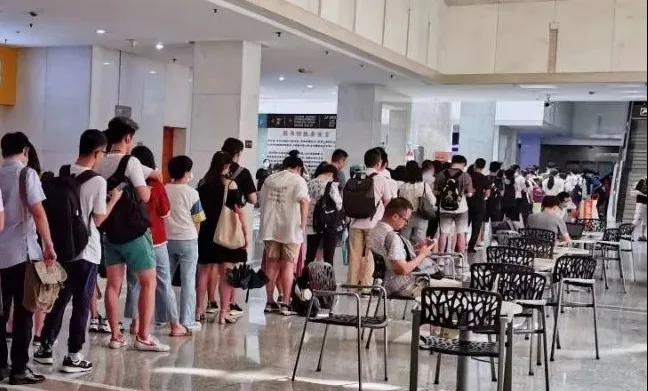 In 2018, the "Zhejiang Provincial Public Library Credit Service Platform" was launched. People can borrow books according to personal credit index.
In February 2019, Zhejiang Central Library Committee was reopened, with its office located in Zhejiang Library.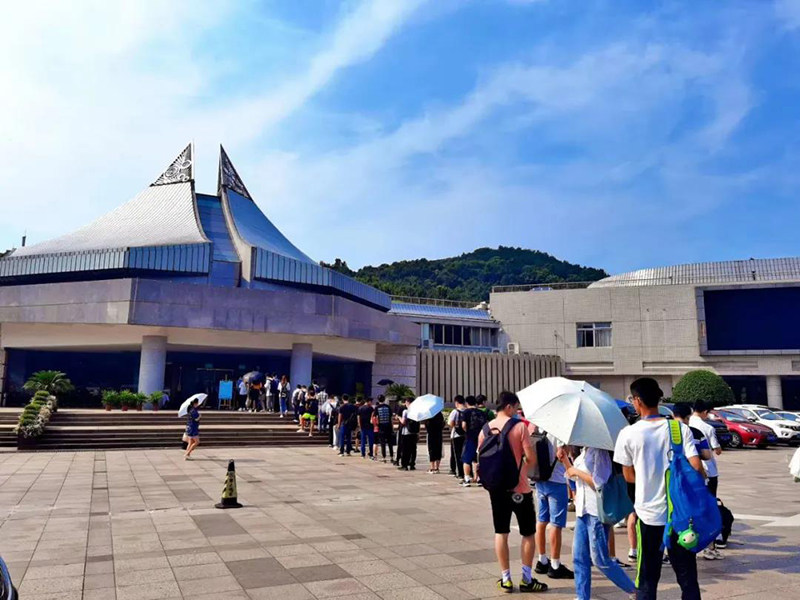 In June 2020, the provincial libraries will serve the public as a whole according to the new issued Action Plan for the Overall Service-Improving Programme for Public Libraries in Zhejiang Province (2020-2022).
Special Column: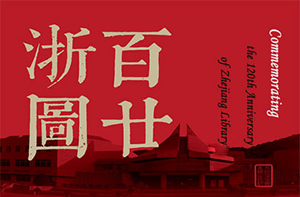 Characteristic Literature Exhibition: Commemorating the 120th Anniversary of Zhejiang Library